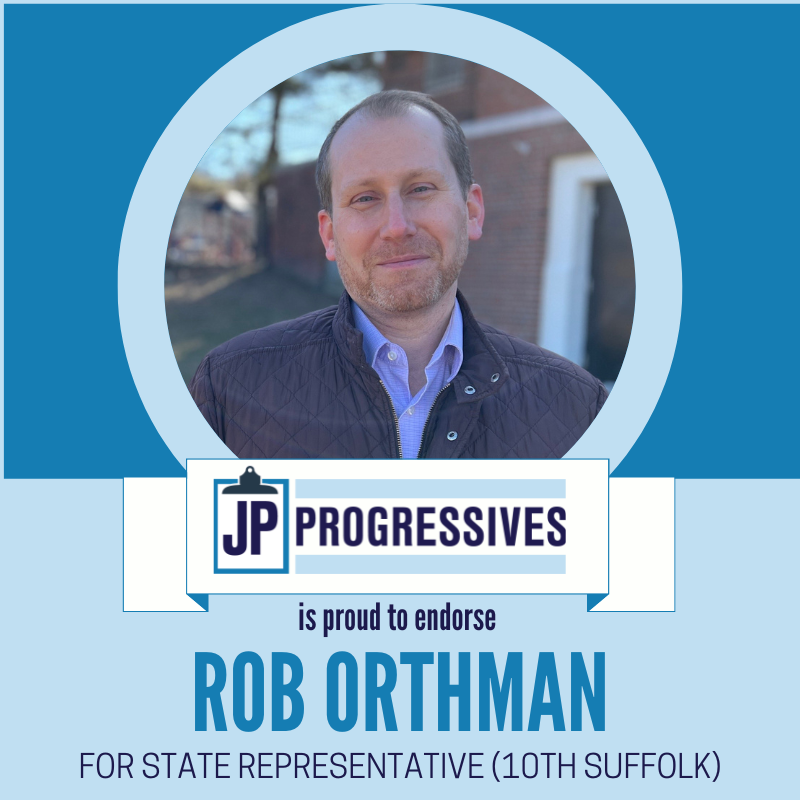 JP Progressive members decisively vote to endorse Rob Orthman for state representative in the 10th Suffolk May 2 special Democratic primary election.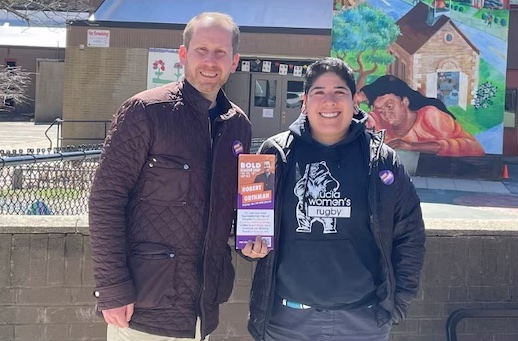 Thank you to all the JP Progressives voting members who came to or watched our candidate forum, read our steering committee recommendation, and took on the task of deciding who to support in this quickly approaching special election.
Now it's time to do the work! JP Canvass This Saturday, 1pm

This race is a sprint! Election Day is just 3 weeks away at the time of this writing and there are 4000 voters in JP for this newly redistricted seat. We have a rare chance to add a progressive to the legislature. Please join us!
---
Our Steering Committee Recommendation
In advance of the JPP membership vote, the JPP Steering Committee made the following recommendation in the 10th Suffolk primary race:
The JP Progressives Steering Committee recommends the endorsement of Rob Orthman for the May 2 special election for the 10th Suffolk State Representative seat. This steering committee only considered two candidates for its recommendation, Celia Segel of Jamaica Plain and Rob Orthman of Roslindale. Both candidates are solid progressives who align fully with our legislative priorities. Both candidates have in-depth knowledge in different, important parts of the progressive agenda, and both have dedicated their careers to public service.

Bill MacGregor disqualified himself when he declined to fill out the Progressive Mass Questionnaire or attend the JP Progressives candidate forum. He also failed to respond to several separate requests for a meeting with the JPP Steering Committee as well as the leadership team of our neighboring Progressive Mass Chapter representing West Roxbury/Roslindale. This lack of responsiveness and engagement to active constituents is deeply concerning for the type of representation we could expect if he were elected to this office.

We were impressed with Celia's knowledge and expertise on healthcare policy, including reproductive rights and affordable prescription drug pricing, as well as her knowledge of the machinations of state policy-making. But we were more drawn to Rob's laser focus on affordable housing and transit equity, which aligns with the issues our members consistently put as their top priorities. We were inspired by Rob's organizing work in the district to advance these policies, including a recent success mobilizing in Roslindale on a housing project that led to a substantial increase in the number of affordable units, and his advocacy work with Walk Up Roslindale, which led to the creation of the morning inbound bus lane on Washington Street between Roslindale Village and Forest Hills. On the Progressive Mass questionnaire and at our candidate forum, both Celia and Rob showed themselves to be strong and reliable progressives. Rob stood out at the forum as having a deeper knowledge and understanding of many key progressive legislative issues.

Others are also recognizing his track record: Rob has secured endorsements from candidates and elected officials we have endorsed previously, including David Halbert (former candidate for City Council At Large) and, importantly, Sam Montaño, the other state representative representing Jamaica Plain and a staunch advocate for affordable housing. Rep. Montaño's strong words ring true to us: "We are at a point where all choices we make from here on out will save us or push us further apart. I trust Rob Orthman to be the guy who makes the hard choices with impacts on people most systematically impacted in mind…. Rob has integrity, creativity, and determination to take our communities into the future…."

Unlike in other races, this endorsement reflects a pragmatic decision given the unique constraints of a special election. This campaign is going to be a sprint. At the time of this writing, there are just 33 days before the primary on May 2.

Historically, this seat has been held by a representative whose score on the Progressive Mass Scorecard ranged from D- to a high of C+. Winning this seat will continue the shift in the legislature in the progressive direction while also strengthening the Boston delegation. But winning is not going to be easy.

This is a new district for JPP since the 2020 redistricting and includes only three Jamaica Plain precincts (19-2, 19-3, and 19-8), albeit high voting ones! The bulk of the district (approximately 60% of the voters) are in West Roxbury. The path to victory for this race will be achieved only by winning over a segment of these voters. We believe that Rob's deep roots in the district—growing up in West Roxbury where his family still lives, his committed service in the district for more than 20 years, and his current base in Roslindale—give him the best fighting chance to squeak out a victory. But he's not going to be able to do it alone. Progressives will need to coalesce, roll up their sleeves, and get their sneakers out so we can knock on 3000 doors in the next month. We hope you will join us!

For all these reasons, we urge our members to join the JP Progressives Steering Committee in supporting Rob Orthman.